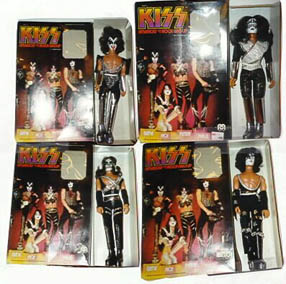 I caught a commercial or a show or something on TV tonight and saw that Gene Simmons recently got a facelift, and it reminded me that I've wanted to tell you guys that KISS may be the worst band that has ever lived. Seriously. Sure, they're good businessmen and all; they knew they sucked so they invented personas and put on the makeup and all that crap, but it was all bogus. The best thing that ever happened to them was when uptight parents started thinking they were Knights in Satan's Service, because that created an atmosphere of rebellion that fooled generations of youth into thinking they're actually good, or that they're actually heavy in some way. I'm sure some people listened to them just to piss their folks off, but I'm also convinced that many people were fooled into thinking this band actually has some sort of talent. They don't.

I don't have a problem with their "show," per se. When David Bowie wore make-up, it was cool because his music also kicked ass. Same goes for Alice Cooper. I can even get into Marilyn Manson. All of these people care or cared about the music at least as much as the show. KISS? They cared about selling dolls and lunchboxes and make-up kits and hooking up with groupies. Only one of those things is rock 'n' roll.

Name a good KISS song. "Strutter"? That's a horrible song. "Black Diamond"? "Cold Gin"? No, those are horrible too. And "Rock 'n' Roll All Nite" and "Beth" are two of the worst songs I've ever heard. And what did they do when they felt the changing of the tide in the music industry? They made a disco record. (Remember "I Was Made for Loving You"?) Hell, they even managed to make the worst movie of all time, KISS Meets the Phantom of the Park.

I'm not saying there haven't been bands that have made worse music than KISS, but all things considered, KISS may just be the worst band of all time.